-Notice of Public Hearing- Mt. Vernon Township High School District 201 Board of Education will conduct a public hearing at 6:00 PM on Monday, August 21, 2023, in the District Office Board Room. The purpose of the public hearing is to satisfy the legal requirements prior to the approval of an E-Learning Program to be implemented in conjunction with or in lieu of the use of Emergency Days.

This is a reminder that Homecoming tickets will be sold during lunch hours through Thursday of this week only. Tickets are $20 and must be paid in cash. Students may not have any current debt nor be on permanent social suspension. All guests from other high schools or graduates must have an approved guest form on file in the Attendance Office. STUCO is excited about next week's Party at the Parthenon Homecoming events!

Please note there will be increased security measures this morning. As a precaution to events in our community, additional officers will be on our campus. There have been NO threats made against our students, staff or facilities. We welcome the additional officers to ensure a successful start to our instructional day.

Homecoming dance tickets will be sold during lunch hours Monday, September 25 through Thursday, September 28. Ticket sales will be set up in F lobby just outside the Media Center. No tickets will be sold after the 28th. Tickets are $20 each and must be paid for in cash. All student debts must be cleared before a ticket may be purchased. Please check your student's Skyward account for any fees owed. If a student plans to bring a guest from another school or a graduate, a guest form must be obtained in the Attendance Office and returned to that office no later than Monday, September 25. A ticket will not be sold for a guest until the Attendance Office has signed off on the form. Guests must be in high school, a graduate, and no more than 20 years old. Grade school students may not attend the dance. This year's dance theme is "A Night in Athens." A limited amount of Homecoming t-shirts will be given to students on a first-come, first to purchase ticket basis.

MVTHS has a scheduled 1:57 dismissal Thursday, September 14 to prepare for Open House. Open House runs from 5:30 to 7:00 pm. Please enter through the main front doors or the cafeteria entrance.

Students and staff are encouraged to wear red, white and blue tomorrow in honor of Patriot's Day and in remembrance of 9-11.

Open house is set for Thursday, September 14 from 5:30 to 7:00 pm. Parents will have the opportunity to meet teachers and other staff members during this time. You may enter through the front of the building or through the cafeteria doors. We hope to see you soon!

MVTHS has a mandated intruder drill scheduled for Wednesday, September 6 at 9:10 am. Law enforcement will be onsite to assist with the drill. Please contact the District Office with questions or concerns.

Friday, September 1 is a 11:40 dismissal for students. Staff will participate in in-service activities in the afternoon. There is no school Monday, September 4 due to the Labor Day holiday.

Statement from the MVPD - At around 1025 hours this morning, the Oakland Education Center at 716 Casey reported a student attempted to enter the facility but activated a metal detector. When questioned, the student allegedly reported he had a gun. The student was moved out of the building and a lockdown began. All available officers and deputies responded to the scene and were able to make contact with the juvenile. No firearm has been located at this time. This is an ongoing investigation. From MVTHS - the above incident occurred at our building located at 716 Casey. All students and staff are safe. As always, enhanced safety procedures will continue to be followed at MV East and our main MVTHS campus.

MVTHS Student Council members will soon set the theme for this year's Homecoming. Stay tuned for more specific details. Until then, make sure to note Homecoming Week is October 2-7. Each day will have a spirit theme. The Homecoming football game is October 6, and the dance is October 7 from 7-10 pm.

This is reminder that school starts tomorrow - August 14! Students will dismiss at 1:57 the first day. We are excited to start the 23-24 school year with our MVTHS students!

Vernois 2023 had arrived! Distribution information is as follows: Graduates or their designees may pick up their copy starting Wednesday, August 16 in the Attendance Office from 9:00 am to 3:00 pm. Class of 2024 yearbooks will be available for pickup at all lunches starting Wednesday, August 16. Class of 2025 yearbooks will be available for pickup at all lunches starting Thursday, August 17. Class of 2026 yearbooks will be available for pickup at all lunches starting Friday, August 18. Yearbooks may also be picked up after school in the VPG offices located in Room C114. A limited number of 2023 yearbooks will be available for purchase for $85. Make checks payable to "MVTHS" Please contact Vernois adviser Dr. Jamey VanZandt at 618-244-3700 or
jvanzandt@mvths.org
with any questions.

In person registration for 10-12 grade students is Tuesday, August 8 from 12-7 pm. 9th grade students may register Wednesday, August 9 from 12-2 pm. Please enter through the cafeteria doors. Remember there's also a freshman opening day August 9 from 10-12 in the theater. Doors open at 9:30. Students and parents will be able to meet teachers and staff. In addition, there's a parent informational session and tours of the campus available. The first day of student attendance is Monday, August 14. The first day will be a 1:57 dismissal.

All of the District offices will be closed July 24th to the 28th for summer cleaning. Apologies for any inconvenience. Online Registration will still be available, on the website.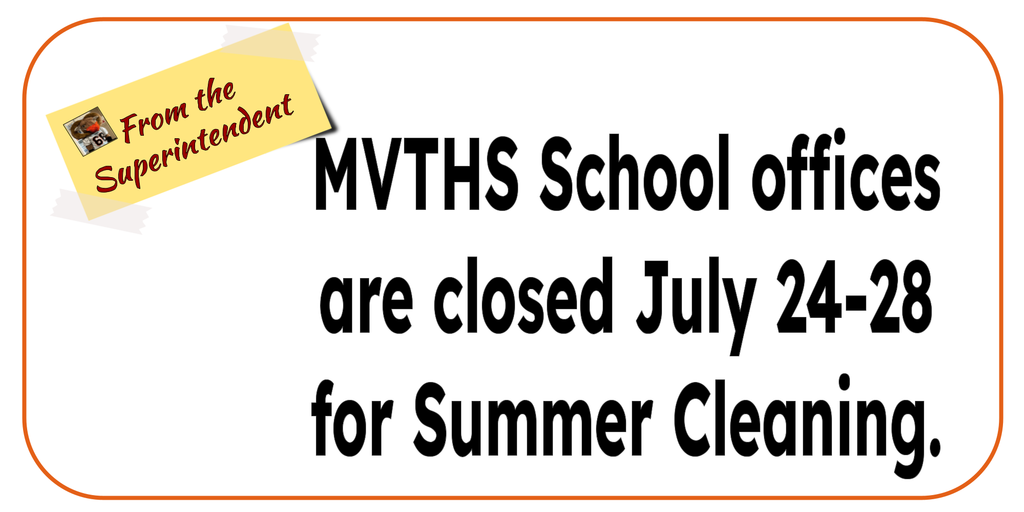 The first day of student attendance is set for August 14. In order to prepare for the start of school, be sure to check out the MVTHS website or Facebook page for important information regarding the upcoming registration process.

Due to the vandalism last night, the Senior Send Off scheduled for today has been canceled.

MVTHS will unfortunately be taking an e learning day Wednesday, May 10 due to vandalism and conditions in the building. Staff members should report as scheduled. AP testing scheduled for this afternoon WILL go on as scheduled. Students should report through the Attendance Office. Students may pick up lunch from 11:30 to 12:00 in the cafeteria. If anyone has any knowledge of persons responsible for these actions, please notify administration.

Phones are back up at MVTHS.

Due to an overnight power outage, MVTHS is currently experiencing issues with the phone system. We ask for your patience as our staff works to fix the problem.